Search
results for

: warm up drill

We found 35 results matching your criteria:
Drills

category: Passing-and-Receiving
Football Warmup Instep Pass Passing and Receiving Players between two cones jogging on the spot. Play a flat pass between the cones to the other play...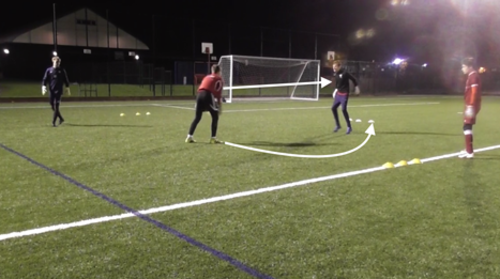 category: Goalkeeping
Soccer Footwork Square Warm up Goalkeeping *AUDIO DESCRIPTION ON* Set up a square with cones on the outside of the square. Should be about 20yds by ...

category: Agility
Soccer Warm Up Grid Agility Split your players into two groups. Half of the group runs around the outside of the square for one minute at 60% pace. A...

category: Warm-Up
Soccer Pac Man Warm Up Objective: Initial pulse raiser to get players focus & physically prepared for the session. Detail: Mark out a 20 x 20 grid wi...
Web Videos
This is an introductory drill that I use as a warm up. I typically change the footwork movements every time I use this drill. Pleas LIKE this video an...
Warming up prior to training and playing a match is essential to not only preventing injury, but also for optimizing your performance. In this video I...
Community Drills
Warm Up Drill - 4 v 1 5 players to a station.1 inside and 4 outside. Players outside with the ball1 minute player runs to get the ball then chang...
Players split to three stations. Player A dribbles to the red cone executes a feint and takes a shot. Then plays a 1v1 with player B.Player B spe...