Search
results for

: Circuit

We found 25 results matching your criteria:
Drills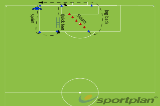 category: Agility
Players start on the baseline and run one at a time. The next player starts once the player in front of them has run around the first cone.
P...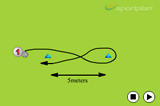 category: Dribbling
Close control dribbling with the ball. This practice is a good practice to set up as part of a skill circuit where the players pratice lots of vari...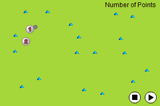 category: Dribbling
Two players with one ball per pair.
Player 1 and player 2 juggle to decide who starts with the ball. If player 1 wins, he/she begins with th...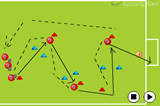 category: Passing-and-Receiving
Set out a pattern of cones for any passing sequence.
In this one we set the cones out so the players play a infield pass followed by a pass ...
Web Videos
4 zones. - 1. TABATA general strength/ speed, 2. 5 vs 5 + 2GK + 5 jokers (playing) 3. 5 vs 5 + 2GK + 5 jokers (jokers)4. 5 vs 5 + 2GK + 5 jokers (play...
Warmup Circuit with 6 zones. - Groups of 4 players. - 3 minutes in each zone and 30 seconds to change the exercise. 1. Eccentric quadriceps + coordina...
3 zones – 3 sets/ 3 postas – 3 series - Works of 4 minutes – pauses of 1 minute – pauses between series of 3 minutes/ 4' de trabajo – 1' entre repetic...
This video shows an example of a functional resistance circuit designed for elite footballers by Simone Ripamonti, former Head of Sport Science at Mel...
Sessions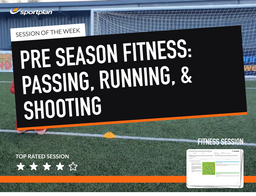 Get their legs moving and find out how your players perform when tired with this pre-season football-fitness session!
Unlocked
If you're not careful with your first touch it might be your last. That's why this football plan teaches players to look up and use their first touch ...
Unlocked
Like Bayern Munich, teach your players to break down their opponents by speeding the ball around the pitch with this fast-paced passing and moving ses...
Unlocked
Community Drills
The players will complete an agility circuit that looks like the image ---->
Toujours dans la portion d'échauffement de façon à aller progressivement vers le geste explosif du tir. Objectif du travail d...