Keep Moving with the Ball in Possession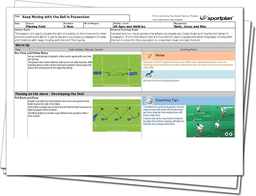 In this session we ask your players to do two things at the same time. Running and passing shouldn't be two separate skills for your players, they should all able to perform these basic skills at the same time to speed up play and avoid being closed down.
"I've watched too many games now where my players are closed down and lose the ball when in possession."
It's important to teach players that when they keep moving with the ball it's much harder for the opposition to close them down and win the ball.
This session aims to teach your players the skill of passing on the move and and to then practice putting the skill in a game situation by playing possession hockey and finishing with 'keep moving with the ball' final game (using the part-whole coaching approach).