Bite size fitness 6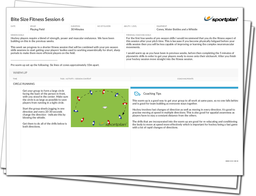 This hockey fitness session won't make you very popular; it's a tough and demanding high-intensity running session, which will challenge your players and see them putting in the legwork!
Written by a Professional Personal Trainer, specifically for hockey players, this Bitesize session covers everything from warm-up to cool-down, why not incorporate it into your session today?
Feel the burn and get your squad running at speed, working on their muscular endurance and plyometric strength today.
This session is available as part of an Interactive Coaching Pack, scroll down to learn more