Hockey Drill Demonstration
Description
Player 2 runs to receive the ball and then runs with the ball to the cone before turning to pass the ball back to the support player.
The player then runs across to the back of the other practice (white players).
The support player passes the ball to the other group (white).
Coaching points
The player 2 running across simulates the run they could make during the game.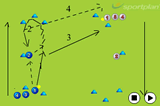 More Movement off the ball Drills
---