Search
results for

: line speed

We found 49 results matching your criteria:
Web Videos
Here are some simple defensive drills for Rugby League that have been used the Spartans Rugby League Club.
Sessions
Improve your team's understanding and performance when defending at the ruck - teaching them to defend as an aggressive, loud and confident unit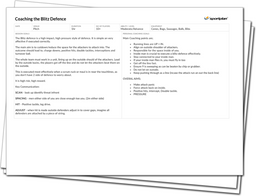 Develop the aggressive Blitz defending style in you game and don't let the opposition get comfortable on the ball with this session.
Community Drills
- Attack From Set Pieces : 10 Minutes- Defense From Set Pieces : 10 Minutes*2 Min Water Break- Open Play: 20 Minutes*Play from Kick Starts & Set Piece...
2 sides with equal number of players line up opposite each other. (Coach stands behind defenders) Coach directs attackers to move left and right. de...