Search
results for

: spin pass

We found 37 results matching your criteria:
Drills
category: Passing
Rugby Spin Pass Passing The aim of the drill is to develop a long spin pass.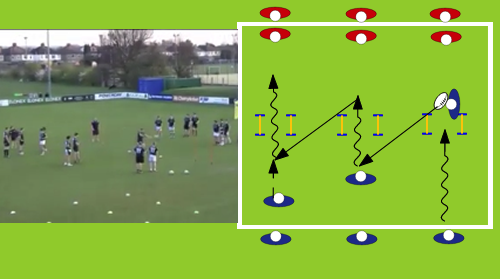 category: Passing
Rugby Spin Pass Practice Passing This is a simple yet very effective exercise designed for players to focus on spin passing accuracy. Players start i...

category: Sevens
Rugby Pass Developer Sevens Tell the players the following...... Players should make 10 passes each between the 5 meter and the touch line. When they...

category: Passing
Rugby Passing circle Passing Tell your players the following..... There will be 4 players on the outside of the circle, starting at 12, 3, 6, and 9 o...
Web Videos
Learn How to Pass a Rugby Ball from the Beginning with Wales 7s Captain Luke Treharne. Use the timestamps below to jump to each step. 0:00 - intro 0:2...
NRL on Nine is the home of rugby league in 2020 so stayed tuned for more NRL highlights, analysis, opinion and video. Watch NRL LIVE and FREE: ...
... video, let the Toulon, England and Lions star show you how to make the perfect pass. He focuses on: • Finger Placement • Control of the Ball • Spi...
Sessions
Improve your junior players' passing with this technique session - passing off both hands, in practice and under match-like pressure
Community Drills
Branco: Passe NormalVermelho: Passe que gira- Pegar a bola longe- 1st Cabeça, 2nd Passe- Finalizar passe com as mãos no alvo- Comunicação (Fundo, long...
this practice is designed to make the players pass more accurate and add length to the passto make the drillharder you could add more oppodents or ext...
3 groups of players , A,B,C A runs to first cone and passes the ball to the right, to players B , player B runs forward to the cone and passes to...