Search
results for

: rugby pitch

We found 20 results matching your criteria:
Drills

category: Coaching-tool
Rugby Full Rugby Pitch Coaching tool.

category: Tag-Rugby
Tag Rugby Lesson 5 Pitch Layout Set out the grid as shown 4 x Rugby Balls 12 x Tag Belts 3 x Yellow Cones Additional Equipment Req. 20 metres 5 m Ins...

category: Coaching-tool
Rugby Coaching tool Coaching tool. ... Explanation of symbols used in Rugby practices Path of ball Path of player Cones ... Full Rugby Pitch Drill Th...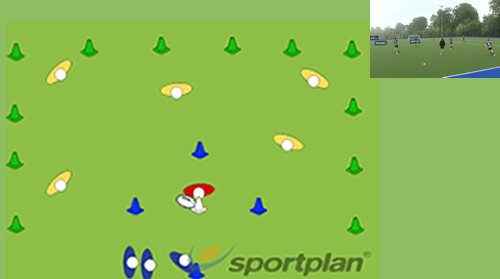 category: Kicking
Rugby Baseball Kicking Set up a pitch area (green cones) based on the age of the players (depending on how far they can kick) with fielders spread ou...
Community Drills
Set up for 6 easy to use drills to improve Aerobic capacity, Anaerobic endurance and change of direction skills at speed.In and out runsAim: Impr...
half paced jog around the outside of half of a rugby pitch. Once lap is completed sprint to opposite corner. turn and run opposite direction to way ru...
Outline for a simple but effective preseason conditioning programme, speed and C.O.D training.Testing300m shuttle testAim: To monitor player's in...