Search
results for

: push pass

We found 14 results matching your criteria:
Drills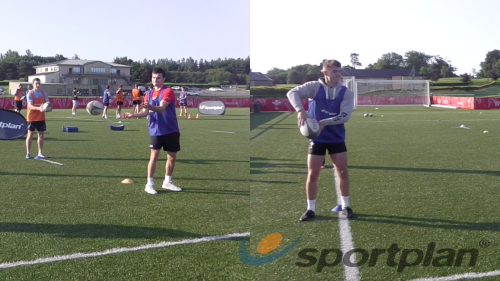 category: Passing
Rugby Static Flat Pass Passing The aim of the drill is to develop a short push pass.

category: Sevens
Rugby Push Push 3 Sevens Tell the players the following...... When the attack advances the defenders PRESS UP on the attack. The attackers must pass ...

category: Passing
Rugby Chasing The Pass Passing Keep your player briefing short, and get the ball moving around the circle as quickly as possible. First have the play...

category: Passing
Rugby Pop and Pass Passing Tell the players the following.... The player on the cone passes the ball forward to the player just in front of the cone,...
Web Videos
In the fourth of Rugby World's mini rugby videos, we show you how to push pass. For more skills advice and training games, see the monthly Mini Rugby ...
Serevi Rugby and This Is American Rugby have partnered to present The Breakdown – an ongoing series of short, instructional videos from the coaches at...
Jonny Wilkinson is acknowledged as one of the rugby world's great distributors. In this exclusive video, let the Toulon, England and Lions star show y...
Community Drills
Coach/SH calls 'up'SH passes to 1 then 2 then 3 receiversReceivers square up to their run (i.e. hips, feet and shoulders faceing North and South after...
Will show the pupils the correct way to hold and push pass a rugby ball effectively and efficiently.Important to get the correct grip. Then "cock...