Search
results for

: 7's rugby lineout

We found 22 results matching your criteria:
Drills

category: Lineout
Rugby Lineout: Hit 2 Lineout 7-man lineout; throw to 2; lift, catch, drive.

category: Sevens
Rugby Tackle Challenge Sevens The exercise stand clockwise, with the first player going from the bottom left cone. The defender must tackle that play...

category: Sevens
Rugby 7's Colour Touch Sevens Tell your players the following..... The attack will remain in attack for 5 minutes, you'll then switch over. Normal ru...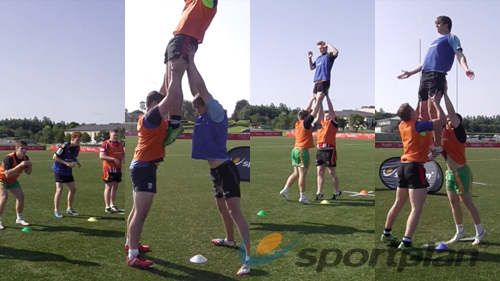 category: Lineout
Rugby Reaction Lifts Lineout The aim of the exercise is to develop unit work, communication and reaction to the lineout lift. Including the Process a...
Web Videos
Luke walks you through Lineout throwing. Everything he finds useful on the World Series. 0:00 - intro 00:49 - Hand Placement 01:33 - Set up 01:58 - Vi...
Former USA 7s Eagle and World Rugby Commentator, Dallen Stanford, looks at the importance of Set Pieces in the game of Rugby Sevens. Dallen Explains 7...
Simple representation of a "Hands" Move from a Lineout in Rugby 7s.
In a short series of videos, the Ladies Sevens explain some of the key situations that take place during a rugby sevens game, in a co production with ...