Netball Drill Demonstration
Related Plans
Prev
Prev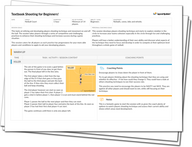 Textbook Shooting for Beginners
Never miss a chance again with this shooting technique session!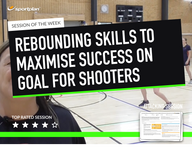 Developing rebounding skills to maximise success on goal for the shooters
Develop your team's rebounding ability in order to secure possession and provide more opportunities at goal.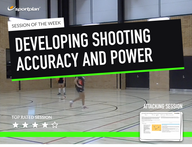 Developing shooting accuracy and power
Develop your players shooting technique, focusing on the accuracy and power of the shot to increase your team's shooting success.
Description
One player, the feeder, starts on the edge of the circle. The other player, the worker (number 1 in the diagram) runs around one of the cones set out on the edge of the shooting circle, then drives back into the circle to receive the ball before making the shot.
Shooter collects the successful shot or rebound, passes back out to the feeder and repeats with an alternative cone.
Coaching points
Ensure focus is on the ball whilst running out.
Drive onto the ball.
Fast feet and balance
Feeder to focus on feeding the space
Progression
Add a floating defender in the circle to add pressure. Feeder can use the dummy pass to trick the floating defender.