Points based on Forehand scenarios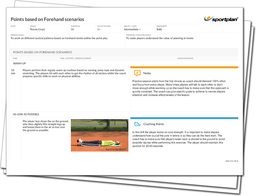 Work on different tactical plays with your players on court, based on their forehand stroke, to catch the opposition off guard! Mix up their play and make them unpredictable with this session, by developing a whole range of shots from the cross-court forehand to the inside out forehand. Draw on the different tactical patterns that your players can use, getting your opponent to run and freeing up the court for a winner.
What's in the session?
Warm up your players and make sure they are ready to put in 100% in your training session. Start off with working on the cross-court forehand, as well as the forehand down the line, so you can develop your player's confidence and accuracy on their forehand. The forehand is the most important stroke in Tennis, so it's vital that your players are comfortable with hitting this shot well!
Continue the session by working on areas such as the inside out forehand, making sure your players maintain good footwork throughout. Get your opponent running with a number of drills, working on key skills which can make your players top-class, before finishing off by working on the cross court skill. This shot is one of the most basic skills in Tennis but the key is not to go down the line too early, so it's vital that your players understand the benefits of continuously playing the cross-court shot in a rally!