Patience, concentration and hard-work Session!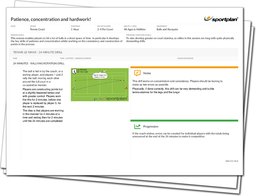 Patience is a virtue and this week's session is all about the long game. Your players are not always going to be able to smash through their opponents which is why sometimes they're going to need to be patient, concentrate and be prepared to put in the hard work!
To get your players adapting the way they play, this challenging session gets your players to hit a lot of balls in a short space of time - developing the construction of points, patience and most importantly consistency - ensuring your players have the right levels of on court mental and physical stamina!
"It's just about winning. You have to adapt during matches and different situations and different opponents. I'll play the way that I think is going to win me the match. There's not one style in particular I prefer. But in terms of game styles, I like winning. I don't like losing. So I'll play whichever way I need to to win." - Andy Murray
What's in the session?
Starting with a rotational rallying drill you players will quickly learn that in this session consistency is key - especially in the final Plus and Minus game where if a player wins the point they get 1 point. However, if they make an unforced error (at the coach's discretion) they lose a point in this first to 7 points exercise!