Multi-Dimensional Practice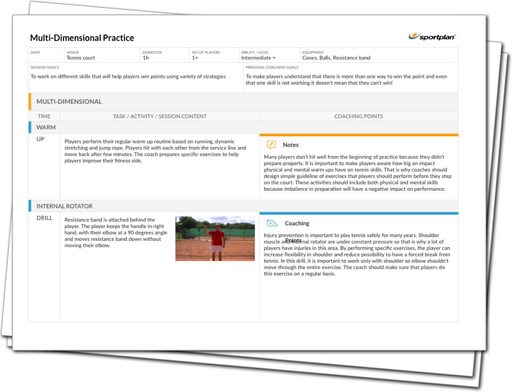 Help improve your player's skills offensively and watch them mix it up on court, working on a number of different strategies to outwit the opposition. Don't let your players play the one way, help their play become multi-dimensional to win!
What's in the session?
Start with a simple warm up drill and rotatory exercise to help prevent injuries with your players, ensuring they are fully warmed up and raring to go. As we go through the session, work on a number of shots with your players, ranging from the different styles of cross-court shots to plucking the ball out of the air with the volley.
Make your players aware that if one style of play isn't working then not to panic! You can still win the match by changing and adapting to the opposition's style of play so it's important that your players are fully prepared and able to pull off different shots if necessary. By using a variety of shots - with a mixture of power and skill combined - your players will set for victory.