Conditioned Rallying Games - Adapt and React!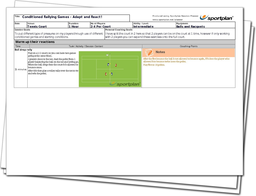 In this session we look at how you can simulate a variety of pressure situations through the use of conditioned games and help your players to adapt, improvise and overcome these testing moments in their games!
This session works on both attack and defence by sharpening up your players' lob shots whilst also working on how to recover after being lobbed. In this games based session we also take a look at volleying, going to the ball and quick reactions.
To keep things fun and effective, this session uses conditioned games to train skills and simulate live situations, as it's a great way to reward hard-working players whilst also focusing on their key skill areas!
Use this session to teach your players how to adapt, improvise and overcome!