Team Development Session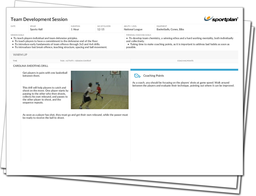 Get your players working hard as a team with this 12-drill session and build a winning mentality.
After coaching this plan expect to see your players working harder in defence, both as individuals and as a team. This plan also covers the offensive fundamentals.
What's in the Session?
The session begins with fun warm up that get players shooting and developing their 2v1s to promote better movement and spacing. The defensive side of the game is then worked on as players work in small groups to improve their defending both individually and as a team.
Players will get to show what they've learnt in the session as we move into bigger games with 3v3 and 4v4 drills that test your players' defence and offence, before working on tactical development and teaching your players the basic principles of attacking.
The session finishes with a fun but hard-working drill that tests your players shooting.