Moving without the ball: Spacing Out and the Back Cut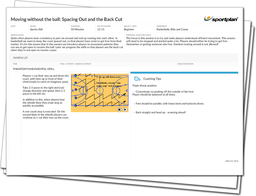 This simple session lays the foundations for future basketball development. Instead of running around like headless chickens your players will be encouraged to think about where they are moving, and most importantly, why they are moving to get open to receive the ball!
What's in the session?
To promote efficient movement to your players we start with two fun warm up drills, designed to get players side-stepping and changing direction before then focusing on the V-Cut and Back Cut, simulating the sort of movement your players should be using on court to wrong-foot their opponent!
Your players will need to work hard throughout this session so it's only fair we finish with something fun to make sure they're eager to come back next week, which is why we finish with three games, including the fast-paced pass and move "3v3 Ten Passes" game!