Team Defense and Progressions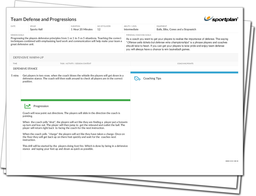 This is a bumper defending plan that's positively bursting at the seams! With 10 Team Defending Drills - there's everything here, from getting the stance right to working on a man-marking defending system! With so much to coach in one session there really is something for everyone!
There is a famous saying that goes "Offense sells tickets but defense win championships" - this is a saying that you should get across to your players and make them take it to heart!
That's why this session aims to improve your players' defensive principles - getting them to work as a team, communicate and improve their defending technique as a unit!
Did You Know?
Michael Jordan took most pride, not in his fantastic ball skills, but on his reputation as the best defender. Get your team to take pride in their defence with this week's Team Defense session!