Defending Fundamentals: Footwork and Body Position Session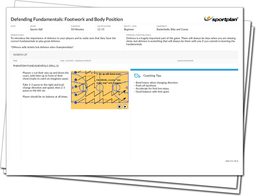 Learning the defending fundamentals is a bit like learning to ride a bike, once you know how you never forget.
Defence is a hugely important part of the game. There will always be days when your players are missing shots but as long as they're able to stop your opposition from scoring then you only need to score one basket to win the game!
It's for this reason that in this session we introduce your players to the importance of defence, making sure they have the correct fundamentals to confidently play defence and take pride in their defensive technique (Did you know that Michael Jordan took most pride in his defensive ability?)
Skills covered in this session:
Footwork, Body Position and how to Defend in a 1v1, 2v2 and a half court game!
Teach your players the fundamentals today and make sure they have the basics down so that they can play a great defence!