Pre Season Conditioning: Skills and Stamina Session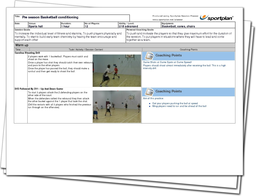 It?s time to get back onto the court. Let?s see which players have enjoyed their off-season slightly too much! This pre-season conditioning session is the perfect way to get rid of some of rust so your team hit the courts in style when it comes to the first competitive games!
What's the aim of this session?
Push your players - both physically and mentally
Start to sharpen up there skills with shooting and passing drills that will work their legs and their hands.
Increase your players' individual levels of fitness and stamina
Start to develop early team chemistry - with drills that encourage communication, team-work and support
Use this to practice dribbling skills to beat opposition players, develop their defensive ability and transition into attack and driving toward the hoop. With a combination of shooting drills, face-paced mini-games and fitness running this session is sure to put smiles on your players' faces whilst working hard.
Start your season the way you mean to go on - motivate everyone to work hard and give maximum effort for the duration of this session! They?ll get out what they put in!