Pre Season Skills: Ball Handling, Passing and Scoring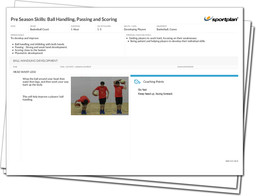 Our second off-season development session gives coaches an idea of what individual training their players need to be doing in the run up to the start of the season.
Players should still be working hard, even during the off season, and with consistent practice you should see major improvements in your players thanks to this session.
What's in the Session?
The session involves over 15 individual practices to improve your players' ball handling, dribbling, passing with both strong and weak hands, inside scoring and jumping ability.
Related Plan
Did you miss last week's Pre Season Conditioning: Skills and Stamina Session? You can catch up on it here