Search
results for

: pre-season

We found 22 results matching your criteria:
Sessions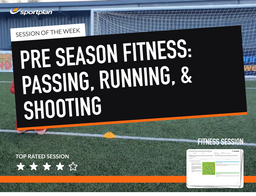 Get their legs moving and find out how your players perform when fatigue hits them with this pre-season football-fitness session!
Pre-season training doesn't have to be boring! Use the 5 drills in this fitness plan to get your players back in shape and improving their passing gam...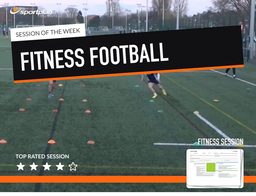 Every position demands different attributes and levels of physicality, so why don?t you train your players differently to match!? Use this session to ...
Blow away the cobwebs and work on Turning, Shooting, Dribbling and Defending - Perfect for before a summer tournament or welcoming players back from t...
Community Drills
Pre-season and fitness. Dribble with the ball over a distance of 80 metres. Leave the ball along the line between red cones and sprint upto white cone...
Run 3 Times Around the Field in 2'sDo Warm Up Around Half FieldOpen Gates, Close Gates, Forward Kicks, Side Kicks, StretchEach Person Does each D...
Players attempt to defend two goals.For pre-season and SAQ sessions, add poles within the pitch so once a pass is played they must move through a gate...