Pre-Season Possession - Sharpness and Fitness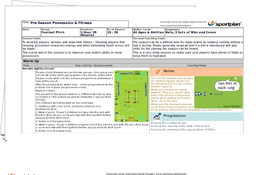 This Sportplan session looks to develop your players' aerobic and anaerobic fitness whilst also demonstrating through drills that keeping possession not only helps your side keep the ball but importantly it also conserves energy!
Pre-season can be a difficult time for many teams as endless running without a ball is boring. However, teams generally respond well if a ball is introduced which is why this special three drill session ensures your players are kept happy - with plenty of ball time - and that you, as coach, are also kept happy as your players work on their fitness levels!
We open with a tiring full pitch running drill. As half your team are sprinting, sidestepping and jogging around the pitch the other half are having a breather in the middle, working on their passing and receiving technique. After this we get your players into small groups to work on possession before finishing with a fun game of three team possession. To find out how this game works though you'll have to log in!
The simplicity of this three drill session is its strong point. By using these 3 drills you can improve your players' aerobic capacity and also use a ball in the process to keep your players engaged while they improve their match fitness and sharpness.
This session is available as part of an Interactive Coaching Pack, scroll down to learn more