Pre-Season Introduction: Running and Ball Work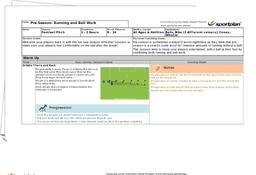 As the top teams are all making their signings for next season it's time for you to start thinking about getting your superstars back to training - refreshing their skills and preparing for them for the new season.
To welcome your players back for the 2011/12 season we've prepared a fun skills-recap session, to make sure your players feel comfortable on the ball after the long summer break!
However, just the words "Pre-season" can sometimes be enough to strike fear into your players, as they think that "Pre-Season" is their coach's code word "massive amounts of running without a ball'. This session aims to put those fears to rest, keeping your players entertained from start to finish, with a ball at their feet by combining both running and lots of ball work
Try this fun session with your players today and review your players' ball control and passing whilst also working on their fitness!
This session is available as part of an Interactive Coaching Pack, scroll down to learn more