Search
results for

: bunching

We found 16 results matching your criteria:
Sessions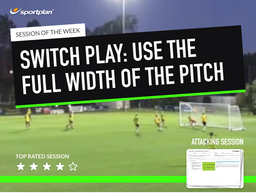 Make the most of the space on the field by getting your players into the mind-set of switching the play, rather than trying to hammer down the same co...

Develop your players understanding of space and how their movement (or even lack of at times) can create space to play in the midfield.
Pitches can range from 45-90 metres in width! Are your players making the most of this space?
Community Drills
2v2 on the inside. Players try to pass to their teammates outside the square, and follow their pass to replace that teammate. Alternate set-up: G...
- Not allowed to score unless the ball goes in the channel- No one else is allowed in the channel- Player in the channel must stay in attacking halfTh...
Defending as a unit whilst attacking team try to penetrate offside trap.Defending trio stay within prescribed zone to encourage working as a unitDefen...
Divide your area as shown,to prevent young players from "bunching up"5 min dribbling:scisors,step-overs,pull backs:both feet5 min trapping t...