Stop Travelling! Improve Footwork Skills - Pivoting, Passing and Cutting.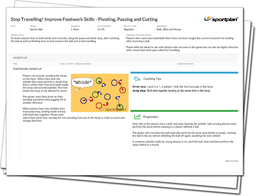 Have your players been caught travelling recently one too many times?
This session focuses on footwork and movement - your players will learn techniques and movements they can use in game situations that do not involve dribbling.
What to expect?
The session is split into two parts. Part one - your players will learn how to correctly pivot and protect the ball. Part two - your players will be making cutting runs, passing to players on the move, pivoting and shooting (there will be no dribbling involved). To complete the session your players will take part in a game -netball rules and put what they learn into practice.
Get your players playing with their brains and without the use of the dribble. Eliminate travelling with this session plan today.