Setting the Screen - Attacking Play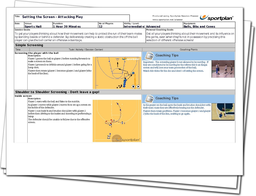 This week we look at the rules of screening and work through specific patterns of play so that your players can practice creating these static obstacles - while also reviewing the V cut.
Many coaches are unaware of screening, also known as a 'pick'. Unlike in many other sports, screening is a legal way for your players to obstruct and lose their marker - disrupting the opposition's defensive system.
Not only will this technique frustrate your opposition and create openings for your players, it will also change the set-up of the game - as your players come up against different players, possibly resulting in a mis-match where they have a height or ability advantage. It's important that your players fully understand the rules of a screen - if the player setting the screen makes an attempt to move an arm or leg towards the defender once stationary, it'll be pulled up as a foul!