Move to make Space - Using the V-Cut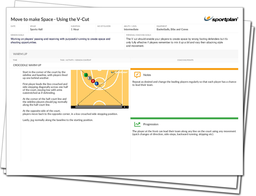 Use this plan to coach your players to find space by bringing a bit of variety to their running with this energetic V-Cut running session.
It's important for players to be able to get open to receive a pass or find space in which they can shoot. One of the most effective ways of getting open is by using the V-Cut. The V-Cut is a simple move but when used effectively can successfully wrong foot even the most alert of defenders, giving players more time and space in which to receive the ball.
To get your players timing their run, faking and then pushing off into space this session starts with a series of skill development exercises, to help your players understand and practice the skill, before getting players to V-Cut their way towards the basket in the final practice.
Find space today with this week's attacking movement session!