Introduction to Defence - Coaching the Stance!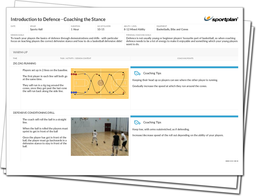 Defending isn?t the most glamourous of positions. Defenders rarely get the plaudits and the headlines always go to the forwards, however that?s all about to change! Make defending fun again with this session that puts a bit of excitement back into keeping it out!
What?s in the session?
Teach your players the basics of defence with a mixture of demonstration, mirroring and drills and as coach you're going to need to get involved! Warm up for the session with some dynamic exercises and conditioning to get the team up and ready to slam the door in front of the attackers! The session progresses with some fun activities to develop the players defensive stance so they?re ready to shut out any attack. Finish off the session with an injection of energy in the conditioned games, designed with the focus on defending.
Why should you coach the basics of defence?
The sooner your players learn the defensive side and the importance of cutting off an attack the sooner your players will be able to keep the opposition's score down. Then your team's new and improved tighter defence will make it easier for your team to go on and win the game.
Discover a new superstar on your team? they might just be someone you didn?t expect!