Fast Break, Transition Offense and Fitness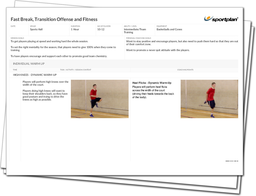 In this offence transition plan, we work on your team's fitness - getting players to sprint from defence to offence to make the most of the fast break!
There's no point in getting your team to run end to end for conditioning purposes if you're not somehow trying to translate it to the skills of the game. That's why we've combined fitness with the fast break - working on your players' fitness levels and their transition skills simultaneously.
Why is this important?
Being able to break at speed is an important skill, transitioning quickly from defence into offence - but it can be physically demanding and you need to be sure your players to last the full four quarters.
Teams that know how to run the floor and establish a set offence quickly, have a powerful weapon for scoring easy points.
Try this fast-paced fitness and offence plan to get your team working hard and help them score more.