Fast Break - Speed Offence!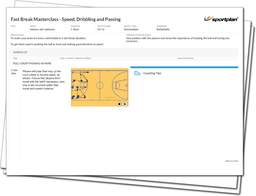 Use this masterclass fast break plan to coach your players how to fast break. This session aims to promote lightning fast offensive breaks to your players - making them more confident in fast break situations, getting them used to pushing the ball and making good decisions at speed!
There are many advantages coaching the fast break to your players. It's the perfect action play when opponents are out of position, fatigued or simply lacking concentration.
Fast breaks are simple points to gain, as the majority of the time opponents are usually outnumbered.
With this plan your players will focus on attacking aspects in their game, working on speed, (outlet) passing, transitioning and pushing the ball forward at all times.
Force the turnover
Look up early and find the outlet pass!
Burst out of the blocks and Sprint!
Be direct and take the shortest route to the basket
Get your players up the court rapidly with this fast break session!