Fast Break Passing - Accuracy and Power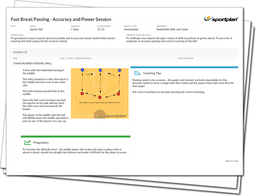 This week's session is all about intensity and speed! Faster passing, faster breaks and faster all-round play to take advantage of opponents' turnovers and increase your scoring!
To get your players passing with power and confidence, ensuring their passes hit the receiver's hands, this session challenges your players to perform at match intensity. By practising at game speed your players will be able to prepare themselves for playing under match pressure.
Through a series of mini possession drills (2v1, 3v2 and 2v2) your players will quickly learn the value of accurate passing and how to beat the opposing defence on breaks. One misplaced pass and they'll be forced to work hard and chase back to try and prevent their opposition from scoring on the break.
Expect bucket loads of sweat with this engaging and energetic session, up the tempo and challenge your players to bring high energy to their next game and secure that all important win.