Dribbling and Ball Handling Skills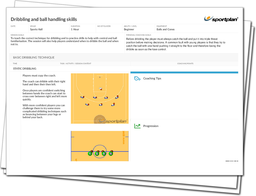 The focus of this week's session is to coach the correct technique for dribbling - helping players to improve their ball control and learn when to dribble, and more importantly, when not to!
As well as looking at the fundamentals, such as using your fingertips and not your palm to bounce the ball, we also look at some more advanced dribbling techniques - designed to improve your players' control and mastery over the ball and to teach them to feel the ball.
For instance can your players Dribble a Figure of 8, Drop and Switch or perform the Spider Dribble? There's only one way to find out - test your players dribbling ability with this week's session to develop a team of dribbling dynamos!
Take a look below at Kyrie Irving, one of the best dribblers in the NBA, displaying his superb drilling skills.