Defensive Fundamentals - Shadowing and Man-marking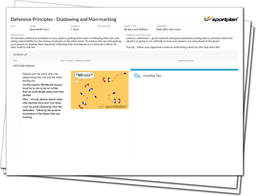 This week's session aims to get your players to take responsibility for the man they're marking, learning to shadow and follow their opponent - ideal for beginners or players in need of a defensive recap.
Never underestimate the importance of a solid defence!
What's in the session?
To ensure your players communicate well and pick up the attackers as they drive into your half, this session starts with a warm-up game of Cat and Mouse and a challenging muscular endurance drill. We then look to practice shuffling with bent knees, hands up and quick reactions before finishing with a half court man-marking game, giving your players a chance to show what they've got in what should be a very low scoring game!