Search
results for

: backstroke

We found 40 results matching your criteria:
Drills

category: Backstroke-Technique
Swimming Dive Start. Backstroke - Technique Start in the water and hold onto the poolside or starting block with both hands about shoulder width apar...

category: Backstroke-Drills
Swimming Backstroke - Drills Backstroke - Drills Dolphin Leg Kick. Kick backstroke with dolphin legs to develop and improve abdominal strength. Arms ...

category: Backstroke-Technique
Swimming Turn. Backstroke - Technique The turn is executed by rolling over onto your front on the last stroke into the wall, drop your head down towa...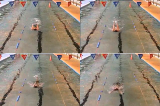 category: Backstroke-Top-Tips
To improve your Backstroke, swim double arm backstroke to develop good balance and symmetry within the stroke. This will also help maintain good fle...
Sessions
Some swimmers are afraid to swim on their backs which is why this intro to backstroke sessions takes things very easily. Get your goggles on and dive ...
Begin to develop your swimmers' ability to swim on their back unaided with this back glide, kick and arm actions session!
Lift those feet and get your swimmers floating on their backs, with and without floats, as we introduce and develop the backward push and glide techni...
Community Drills
Chd perform backstroke legs, arms at sides balancing half-full cup on head.25 m cannon up one side down other
Backstroke turnStudent swims backstroke from approximately 20mWhen they see a flag which the sigh is last 5m from the wall need count how many stroke ...
100m freestyle kicking with the kickboard200m backstroke kicking without the kickboard