Search
results for

: agility

We found 27 results matching your criteria:
Drills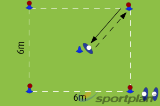 category: Running-between-the-wickets
Player 1 starts on the middle cone, and aims to collect all 4 balls in as quickly as possible. Player must go out to retrieve the ball and ba...
Web Videos
Chinmoy Roy shares his latest Agility training drills with Cricket World, for aid with batters, bowlers and fielders. Cricket World (... is the ...
This 10-Minute Cricket Training Workout focuses on Fielding Agility. Use it as part of your general cricket fitness training programme especially if y...
Sessions
Encourage your players to push themselves and improve their hand eye coordination in this learning through play session!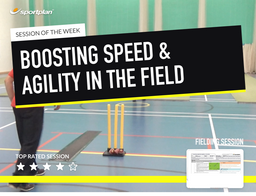 Follow Kohli?s lead and emphasise the importance of fitness in the modern game to give your team the edge when going into the first game of the season...
The wicket keeper is always in the game - make sure they're up to the test with this keeping skills session!
Community Drills
Agility over 10-20 metres between poles. From black cone, sprint towards coach - field it and throw back to mitt. Continue around pole (blue) and run ...
This drill is for agility, set up a ladder then following the diagram jogging knee high step with the left foot being number 1 into the ladder square ...
Running Catch relayPlayers display speed and agilityCatch while on the moveQuick underarm release for initial thrower to catch
Exercise: Red cone - Press ups green cone - dead bugs orange cone - bear crawl black cone - burpees with a press up (Bastards) yellow cone - leg throw...