Short on time? That's where our weekly Cricket lesson plans come in handy!
Throughout the season our resident coaches share what they are coaching with you so you can use it too. No two weeks are the same.
All plans contain videos and diagrams. Watch the videos to quickly understand how to run the session
Clear instructions, coaching points and progressions allow you to coach with confidence and challenge your players
Read the plans on any mobile, tablet or computer. You can save the plan as a PDF or print a copy to take on the pitch/court.
Latest Cricket Plans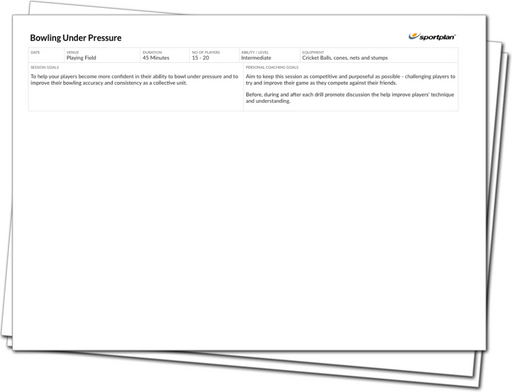 Bowling Under Pressure
When the batsmen gets on top of you or the game has come right down to the wire, you need to be confident in finding your lines and lengths when the pressure is on. Reinforce your skills and replicate the pressure of a game with this session.
Working Your Wicket Keeper
The wicket keeper is always in the game - make sure they're up to the test with this keeping skills session!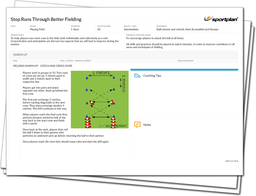 Stop Runs Through Better Fielding
Improve your side's fielding technique and confidence with this session to build pressure on batsmen, forcing them to make mistakes and save runs so you have to score less.
All our plans are written with a clear goal in mind, to help you improve a key area of your players' game through simple drills, conditioned games and skill practices.
We work with a large number of coaches and sports educators so that we can bring you the widest range of ideas and coaching for all ages and abilities. All our plans have been tried and tested. We find out what works and what doesn't, saving you time and helping you to get results with your team/players... fast!
You can coach these sessions as they are or alternatively use them as a springboard for your own ideas.
Browse Cricket Lesson Plans by category
Prev
Next
What our users say
"Sportplan is providing me with all of the new dimensions of coaching ideas that suit and help me in executing the programmes in a results oriented manner."
Very useful format and descriptions of drills. I am using Sportplan to update and formalise my trainings.
Just a quick thanks, I've found this resource invaluable and of huge benefit to both my players and myself. Thanks for helping me to improve my coaching.