Too many Extras - Improving bowling consistency!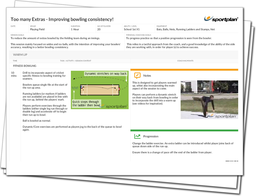 Extra's can be the difference, both in the field and straight from the bowlers hand. In the modern game of limited overs, the odd extra here and there could just keep that run rate low enough to tempt the batting team. Therefore, it's time to cut out those freebies and make them work for every run!
The session focuses on bowlers consistency, firstly working on hitting consistent line with different conditions before progressing to work on the bowlers alignment whilst still hitting the same spots. By improving their alignment and instilling great consistency to their action, the extras column will soon be left empty! Complete the session with a fun alternative to hitting a single spot. Add some competition amongst your bowlers with points for different areas of the pitch and see who comes out on top!
Cricket's a game of patience is what they say, well let's see just how patient the batsmen is a give them nothing for free with this brilliant bowling session.