Running between the wickets - Fitness and speed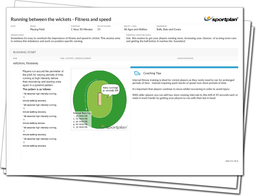 This session gets your players running from crease to crease, preventing the ball from reaching the boundary and working on their general fitness and speed.
When you look at the pros in action, it's easy to overlook fitness for some of the more glamorous aspects of the game such as the big hits and acrobatic takes. But stamina is essential when batting and fielding, to ensure that you're focused throughout your match. Don't let a lack of cricket fitness hold your players back. Get them in shape today!
This session is available as part of an Interactive Coaching Pack, scroll down to learn more