Search
results for

: running

We found 30 results matching your criteria:
Drills

category: Sprint-Examples
Athletics Sprinting on the bend Sprint Examples expert performer running the bend.

category: Pole-Vault
Athletics 4 Stride Approach Pole Vault Gradually increase the length of the approach run to develop the take off phase of the vault. Aim of this 4 st...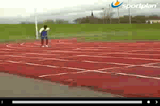 category: Long-Jump
Athletics Short Stride Approach Long Jump A short stride approach run builds up the necessary attack onto the board and works on the first part of th...
category: Pole-Vault
Athletics Flight Phase Pole Vault The development of the flight phase as the vaulter pulls on the bar, begins a half rotation ... Controlled Running ...
Web Videos
National Open Athletics Championships-2014. New Delhi. 400m Run Men final 1. Kunhu Mohamed SSCB 46.97 Sec 2. Arokia Rajiv SSCB 46.99 Sec 3.
"Medallists GOLD PEACOCK Jonnie GBR - Great Britain SILVER BROWNE Richard USA - United States of America BRONZE FOURIE Arnu RSA - South Africa ...
Full race report from Men's 4 x 100m Relay at Athletics World Cup in London, July 14, 2018.
Video Courtesy of Athletics Australia.