Work on the Tactical Serve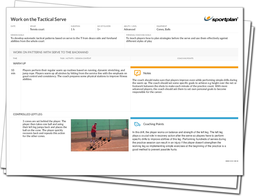 This session looks at developing tactical patterns when serving, focusing in particular on your opponent's backhand, working on your forehand from the whole court. By teaching your players to think tactically when serving and plan strategies, they'll be able to use these tactics effectively against various different types of play from the opposition.
What's in the session?
Start by warming up and making sure your players are fully focused for the session ahead. We then go through four different serving patterns, getting your players to hit the forehand into different parts of the court, giving them the advantage over their opponent. Work on shots such as the cross-court and the inside-out forehands, getting your players familiar with using a serve and groundstroke combination, so they begin to have the confidence to use these even when under pressure.
Set your players on the front foot with their tactical serve, by using this session today!