Improve Footwork in all Areas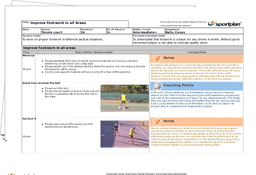 Look at all the greats and yes they can hit big forehands and have a fantastic feel at the net, but what takes them to the next level is how well they move and their awareness around the court. Develop your players ability to read the opponent, understand their own positioning on the court and adjust their movements accordingly to put themselves in the best position to play an effective shot with this movement session.
What's in the Session?
Get your players ready for the session physically as well as prepare them mentally get them in the right frame of mind to learn about their positioning and awareness on the court. The basis for an effective stroke comes from the players footwork to ensure their balanced and in the best position to play the right shot. The start of the session work solely on their footwork before building up their whilst on the move. It then moves on to the players movement after a lob, moving backwards in the court to make the next ball. Finally, the session develops the players ability to play after a deep return from their own serve.
This session encourages the player to practice playing shots from various positions and after different movements around the court. The type of situations a player finds themselves in on the court are never set, therefore by practicing shots in less-than-desirable positions is a great way to improve their movement.