Search
results for

: Set Piece

We found 24 results matching your criteria:
Drills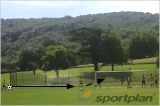 category: Crossing-and-Finishing
A player at back end of 18-yard area gives initial signal for type of corner to be taken (one hand or two hands up for example). The corner taker t...
Web Videos
This video contains four corner kick set pieces from the book Professional Soccer Restarts. Available at ... The book ...
There are different strategies to use when taking a corner kick or a free kick. In this detailed soccer DVD, Brandon Koons takes you through a variety...
... Corner kicks are a great opportunity to score in youth soccer, but most of the time you don't have players that can kick ...
Discover the 3 Success Factors to Improve Your Soccer here: ... I've been putting some videos together on tactical ...
Sessions

Set pieces need to be made the most of it in a match. This plan will make those corners count, and improve the communication between your players
Unlocked
Introduce players to corner set-pieces and teach them how to time their runs and head home with confidence
Unlocked
Community Drills
MovementThrow inPossesionGetting the ball into the scoring zone
15 minsish focusing on corners Focus on as many different runs as possible Defenders mark a player and follow their run Switch roles Defenders - Attac...