Search
results for

: Throwing & Catching

We found 38 results matching your criteria:
Drills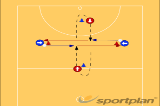 category: Passing
Two passers (blue) start with the ball on the outside red cones.
Two workers (red) start on the blue cones. One worker goes one way around ...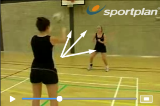 category: Passing
Working in pairs with 1 ball.
Players pass the ball between them -one player is passing accurately and the other is throwing balls slightl...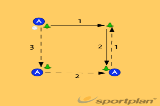 category: Ball-skills
Set up 4 cones in a square, 3m apart
3 players start on different corners (leaving the top right corner free).
The player at the bottom...
category: Interception
The feeder starts the drill by throwing the ball up for both players to compete for and try to gain control of the ball.
Repeat and rotate r...
Sessions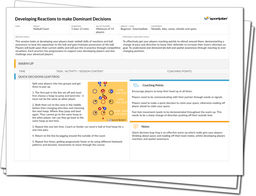 Watch your players react as quick as lightning and give your side the advantage
Coach your players the basic shoulder pass, with this plan including fun drills and games to help your beginners!
Community Drills
Frisbee Island2 TeamsScore by throwing disc into opposing teams space.Thrower is out IF:lands outside boundary.lands in the middle third.dangerou...
1 ball, 2 players facing each other.One player always passes the ball straight and the other always passes the ball diagonally.Both players are catchi...
Concentrate on: - Passes - Timing Leads - Throwing in front - Cautious of linesPut a floating defence in court space