Search
results for

: set plays

We found 21 results matching your criteria:
Drills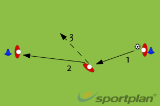 category: Passing-and-Receiving
Football 3 Player Combination Passing and Receiving Set up as shown. The player in the middle starts with the ball. They play a diagonal ball into sp...

category: Crossing-and-Finishing
Soccer Short Corner - Low Cross Crossing and Finishing One player gives a signal ... The player who gave the signal plays a 1,2 with the corner taker...

category: Crossing-and-Finishing
Soccer Back Post Corner Crossing and Finishing Again, the signal made between player and corner taker before the ball is played into the box. A playe...
Community Drills
Attempt different attacking set plays. Keep the same defensive approach unless otherwise said.
Group players into teams of 3 or 4 Coach to say where they are to take the set play from on the court. If the team consists of 3 players. (2 x will be...