Search
results for

: animation

We found 21 results matching your criteria:
Drills

category: Passing-and-Receiving
Soccer Colour Passing - Heads up Passing and Receiving Set up different coloured gates around the grid area - the more colours the better. Players ...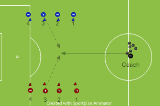 category: Dribbling
A fun game for all - all players are numbered (in the animation from 1-4).
The coach plays a pass straight down the middle of the two lines ...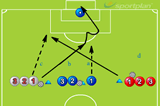 category: Shooting
Practice starts with a bleu player running to wards the goal player from the white team passes the ball to this player, blue player shoots. next a pla...
Community Drills
This is the settup for a good 1v1 drill. The animation is quite bad so ignore it and concentrate on the actual set up shown here.It is important to te...
KEVIN: That is your space of action. You have to be there. Your job is to pick up lost balls, get a pass or drive inside to score.Do not tr...
Midfielder 7, Study Home work for Aaron, Dale, Eoin, Luke. This is the region you are responsible to defend. Your work as a number 7 is not easy...