Supporting front players in the final third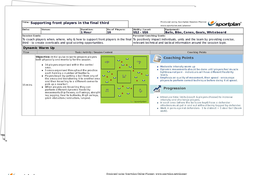 Playing in the area of the pitch which you want to be, the final third, takes a specific mindset from your forwards and midfielders to be providing the support to sustain attacking pressure. Work on your players timing and angles of their runs and their skills when it comes to passing and receiving to set up goal scoring opportunities.
What?s in the Session?
Game related session ? Using forwards as the primary players.
Players will apply methods to link and support with forward players in advanced areas.
Pass & support, timing of runs, angles & distances of support, striker linking players.
The session is aimed at players between the ages of 12 ? 16.
Skill Practice
To coach players when, where, why & how to support front players in the final third - to create overloads and goal scoring opportunities.
This session is available as part of an Interactive Coaching Pack, scroll down to learn more