Playing through the thirds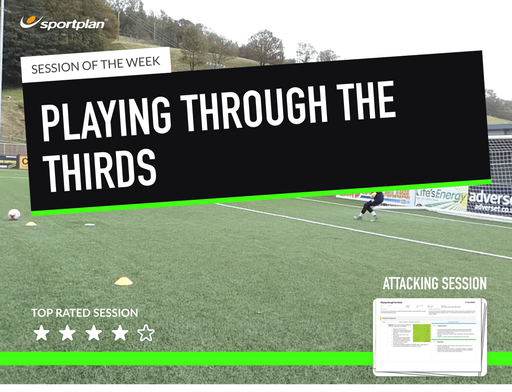 Gone are the days of lumping the ball up to the final third and hoping your big forwards get on the end of it. What?s fashionable now is the ball out from the back and play through the lines to build up play in progressively. Nowadays we regularly see the goals with 20, 30, 40+ passes in the build up lauded as the great goals, so get your team playing that way, passing from defence into midfield and into the forward line.
What?s in the Session?
Simple session based around passing and moving through the thirds ? easy to deliver.
Players will gain an understanding of how to move the ball forward through the thirds.
Moving forward, patience, creating space, team balance and concentration.
The session is aimed at players between the ages of 8 ? 11..
Small sided game ? using thirds.
To coach and encourage players to play through the thirds by using penetrative passing and breaking opponents lines.
This session is available as part of an Interactive Coaching Pack, scroll down to learn more