Forward Passing in Advanced Areas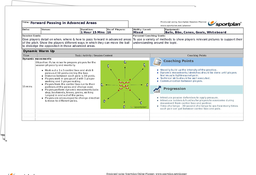 Creativity in the final third is essential to unlocking defenses. To create the chances, it takes players in the midfield to take responsibililty of the ball and make forward passes in the advanced areas. Develop your players into magicians able to unlock any defence with a splitting pass.
What?s in the Session?
As the session begins, it?s important to get your players switched on both physically and mentally. Learning to make the passes into tight congested areas requires the players to be switched on to acknowledge not only the passing technique, but the movements of their fellow attackers. Get their touch going early so that when it comes to the main practice, their touch and weight of pass is on top form. The main skills parctices puts the players in a congested area, replicating the final third in a tight match. The practices focuses on how the players need to move to create the options plus how to spot the passes as the man on the ball. Finish the session with a conditioned game to get your players moving an passing in a game specific situation.
Every great team has a player who can find THAT pass at the time when it is most needed. Find your Iniesta, your Modric, your Scholes and take every match by storm!
This session is available as part of an Interactive Coaching Pack, scroll down to learn more