Finish the Chance!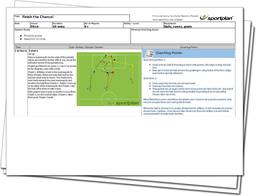 Make sure your players never miss a goal-scoring chance again with this session! With the perfect cross and the right positioning, deliver the best chance to your attackers, ready to smash in the goals this season.
Work on your team?s crossing technique, as well as making sure that your attackers are making the best runs possible to get on the end of them. Focus on their shooting technique and whether they should go for power or placement, making sure they make the shot on target.
Make the keeper work and bag the goals this season!